Discover Colorful Food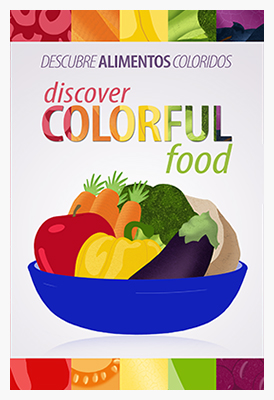 Naturally colorful foods are healthy foods!
Introducing our first book just for kids. Discover Colorful Food is a bilingual multi-level educational book that teaches kids to name 8 basic colors and identify a variety of fruits and vegetables–all in English and Spanish!
Parents learn the benefits of naturally colorful foods and many healthy eating tips for for the whole family.
LOOK INSIDE with sample pages below.
16 Full Color Pages
Bilingual with English & Spanish on every page
8.5" x 5.5" Size
Priced Individually
Sold in Packs of 25
Revised 2014
Now priced at only 99¢ per booklet!
Call 800.397.5833 for shipping charges or for a custom quote for orders of $10,000 or more.
Classroom or library sets available.
Prices subject to change.

Click to view larger image.
Call or email us to request samples of products for you in order to consider bulk purchases.

Other Colorful Food Products