move play explore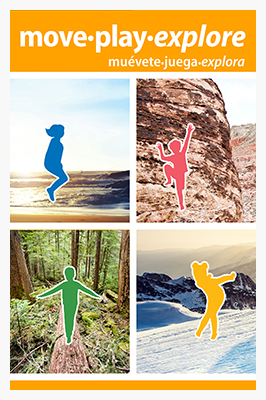 move play explore is a fun book that encourages active play for young children and their parents. The book features beautiful photographs of people enjoying healthy activities in the great outdoors. 
Children can explore different places in nature, enjoy pretending to do the actions on each page and learn amazing facts about planet earth. Some activities are things they can look forward to doing when they are older, like skiing and mountain climbing, and some are things they can go outside and do now, like running, hiking, dancing and more!
Also featured are tips for parents and more ways for kids to explore the book. Children and parents will enjoy reading and moving together with move play explore!
LOOK INSIDE with sample pages below.
16 Full Color Pages
Bilingual with English & Spanish on every page
8.5" x 5.5" Size
Priced Individually
Sold in Packs of 25
Revised 2015
Now priced at only 99¢ per booklet!
Call 800.397.5833 for shipping charges or for a custom quote for orders of $10,000 or more.
Classroom or library sets available.
Prices subject to change.

Click to view larger image.
Call or email us to request samples of products for you in order to consider bulk purchases.