Healthy Bites: My First Cookbook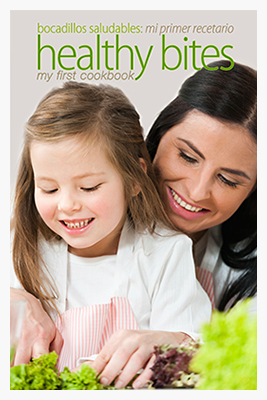 Easy and fun recipes for kids!
Introducing our first cookbook just for kids. Healthy Bites contains 8 easy snack ideas for a parent and child to make and eat together using 18 common household ingredients, almost all WIC approved foods.
Beautiful color photography, illustrated steps and ingredients. Featuring English and Spanish on every page! This recipe book is a perfect handout for nutritionists, dietitians, and counselors to give to families of young children.
LOOK INSIDE with sample pages below.
16 Full Color Pages
Bilingual with English & Spanish on every page
8.5" x 5.5" Size
Priced Individually
Sold in Packs of 25
Revised 2014
Now priced at only 99¢ per booklet!
Call 800.397.5833 for shipping charges or for a custom quote for orders of $10,000 or more.
Classroom or library sets available.
Prices subject to change.

Click to view larger image.
Call or email us to request samples of products for you in order to consider bulk purchases.