Count to Five Food Groups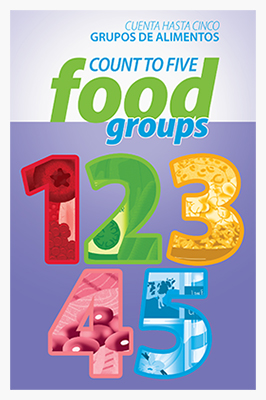 Count to Five Food Groups teaches families about the benefits of eating a balanced variety of healthy foods. Children learn counting to five, healthy foods in each food group, and English and Spanish words. Information for parents includes healthy eating tips and benefits of the 5 major food groups.
LOOK INSIDE with sample pages below.
16 Full Color Pages
Bilingual with English & Spanish on every page
8.5" x 5.5" Size
Priced Individually
Sold in Packs of 25
Revised 2014
Now priced at only 99¢ per booklet!
Call 800.397.5833 for shipping charges or for a custom quote for orders of $10,000 or more.
Classroom or library sets available.
Prices subject to change.