mom+baby: A Modern Breastfeeding Guide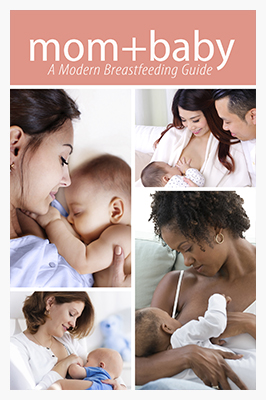 NEW LOW PRICE!
Available in English and Spanish.



Learn about the companion guide for dads!


mom+baby is a colorful magazine style booklet that makes learning about breastfeeding fun and easy.
NEW 2018 Updated Version!
mom+baby offers moms the basics and tips for success. 16 colorful pages feature easy to read lists and short articles. Large print, modern graphics and multicultural photography throughout make it the perfect modern breastfeeding guide.
New Features include:
• Collage style cover featuring ethnically diverse moms
• Quick and easy guide for modern moms
• More modern and clean look, brighter colors
• New LOW PRICE!
LOOK INSIDE with sample pages below.
16 Full Color Pages
Available in English and Spanish
6th Grade Reading Level
Priced Individually
Sold in Packs of 25
Revised 2018
NEW FLAT PRICE of 99¢ per book. Call for prices on 2500 or more.
Sold only in packs of 25.
Prices subject to change.

Click to view larger image.
Call or email us to request samples of products for you in order to consider bulk purchases.