Colorful Food Note Cards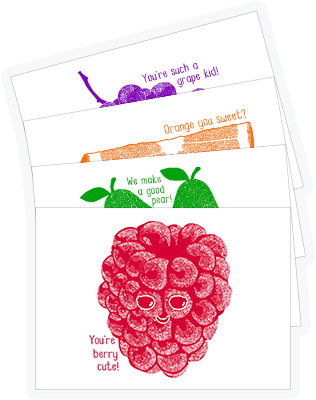 Celebrate colorful foods with these 4 adorable note cards featuring our favorite fruits!
These colorful fruit designs are now available as 5"x7" prints. Perfect for note cards or framed art for the office or a child's room.
Pear design is great for twins and multiples!
Now you can buy these and other items on Etsy! Go to our shop now!
4 Design Choices
5″x7″ coated cardstock
BASE PRICE ON TOTAL NUMBER OF NOTE CARDS
$10 per pack of 20 ($.50 per card)
5 of each of the 4 designs
Prices subject to change.

Other Colorful Food Products